Patagonia Adventure Trip offers adventure tours to people who want to travel trekking Patagonia in a personal way, close to nature and being part of a group where they surely will find new friends. When you travel in a group you can meet people from different countries and cultures, who share the passion for adventure travel and for discovering nature and wild places to hike in good companion. Many very small groups of 3 or 4 friends had prefered to join our groups instead of going alone themselves, and they had a great time with us. The Adventure Trips doesn't have big physical demands, neither risky steps and it can be carried out by practically everybody. It only requires the desire of coming closer to this type of tourism, enjoying the balance among the outdoor, the comfort, and the care of the natural areas.

Quality and Value: We are the best value for your money option among Adventure & Trekking

Tours in Patagonia. Our tours are not the more expensive ones, but we are not the cheapest. We provide all the infrastructure, facilities, transportation, service and knowledge in Patagonia to allow you the best use of your travel time and money. We know each part of Patagonia as if it were our home, because it is our home. And we have designed each tour offered here in detail, using our knowledge and tour operator experience gathered in more than 20 years trekking Patagonia.

Guaranteed Satisfaction: We have gathered an excellent staff of Tour Leaders and a strong team of mountain guides that, together with an experienced team of coordinators, field and

office personal allows us to operate with a high level of satisfaction of our travelers. Our guides have a deep knowledge of Patagonia, its culture, places and people. Our philosophy is to make compatible adventure and comfort. Our trips allow enjoying the adventure of walking through unique natural areas with wild flora and fauna and access to the view of mountains and lakes absolutely powerful, sharing this experience with the new friends we are making along the trip. Our travelers fill a Quality Service Survey at the end of the trip, which shows that they have ranked us with more than 90% satisfaction level at evaluation. We know that cordiality and kindness are essential to take care of individual or group receptive services. And we also know that imponderable issues exist so we need to have a quick and calm answer to solve them. Finally, we have all the permits and accreditations necessary to legally operate in the National Parks according to current laws.

LODGINGS
We utilize nice accommodations, and you can choose different ways to lodge. You can stay in a shared room with same group partners, or in a double base room, or in a single room the days this option is available, if you prefer it. Please be aware that there is not a full range of options in all towns. We specify the way to lodge for each day of each trip and their options. Nice accommodations, not five stars luxury hotels. We do not use luxury accommodations, to stay in touch with the Spirit of Patagonia we use local operated facilities, not international hotel chains, that don't exist in most towns in Patagonia. Patagonia is a wild, clean and safe place to travel. Luxury five stars hotels are better found in another destinations.

Hostel Room (international standards): It's a shared room bed in a hostel.

They are used in El Chaltén, El Calafate and Ushuaia. They have rooms of 4 individual beds each one, with complete bathrooms with sanitariums to share (there are bathrooms for ladies and bathrooms for gentlemen). They provide sheets but not towels. They have facilities to heat water or to cook something if you want. The hostels meet the standards of all the Youth Hostels, which assures a level of hygiene and appropriate comfort corresponding to your demands.

Inn Double or Single Base: It's a room at an Inn with private bathroom. It can be double or single base, depending if you come accompanied or alone.

Mountain Refuge: it is used in Tierra del Fuego, the night we stay at Tierra Mayor Valley. It is very similar to a hostel, but the beds are "cuchetas" (two superimposed simple beds). They provide sheets but not towels. The refuge is a cabin immerse in the forest with the aspect of a children´ story house. Almost all travelers will love to stay to live there. The owner attends it in person with some help assistant. The refuge

has two plants, the superior plant is the bedroom, where 20 beds are located in a single room. The lower plant is a warm and cozy dining room. The heating is obtained through a firewood kitchen which is lit almost the whole day and has always a recipient with hot water on it. Over the kitchen there is also a wooden grill that is used to dry the shoes after each walk. There are also two individual bathrooms with plenty of hot water. People can take a hot water shower once a day, and one person at a time. The electric light is provided by a generator, therefore lights at night are on until 12 PM.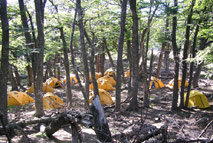 Full Camps inside the National Parks: The best places in Patagonia are the National Parks. In Argentina and in Chile, the two countries that share this amazing place on earth, there are wonderful National Parks as Los Glaciares, Torres del Paine, Perito Moreno, Tierra del Fuego, and others. In most cases there are towns or little cities near them. When you visit Patagonia, you can stay on those cities, and travel daily to do excursions to the park. But with us you can stay inside the National Parks more days than in any other tour, lodging at Full Camp Service.

Full Camp (without bathroom services): we camp in suitable areas of great beauty, generally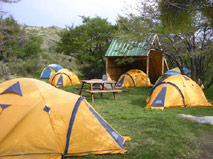 next to a lake, lagoon or course of water, and we will arrive there after a walk. We offer the camp already mounted with double base big tents, high mountain sleeping bags with individual sheets and insulating mattresses; dining room tents, table, benches and complete kitchen with a cook in charge. As there are no sanitary services we provide chemical bathrooms.

Full Camp (with bathroom services): they are similar to the previous ones but with sanitary services, it generally includes hot water showers at certain schedules.



We have different travel classes, that use these Southern Patagonia Campsite facilities in different ways. Our Adventure tours, focus on average travelers with easy to moderate hiking activities, use to mix some camping with hostels or inns. The passengers can enjoy the camp experience for some nights and return to rest under a roof until start another campsite where they stay under the stars. We can assure you that wake up in front of Mount Fitz Roy, the Torre Glacier, or facing Las Torres del Paine (UNESCO World Heritage) will be an unforgettable experience. On the other side, in our Intense Trekking and Camping programs we use camps intensively most nights of the trip, and trek the National Parks widely.

Camp service: We offer the camp already mounted according to the previous description. We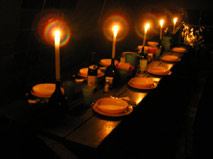 have a person in charge of the camp, who will be the one in charge of cooking and also washing the kitchenware. We may request you to wash the dishes you use, under the supervision of the one in charge of the camp that will provide you hot water in big recipients. After all, isn´t that what camp is all about? You will discover how doing dishes is good for your inner soul. During the walks a box lunch is provided and we will eat it in some panoramic point in a rest stop, generally around the 1 or 2 PM. When people return of the walks, the receive a snack, around 6 PM. The dinner is served around the 8.30 PM, so that people can share a pleasant after dinner and go to sleep early.



FOOD


This trip includes almost all the foods. The few meals that are not included

are those that we know for experience that you prefer to choose freely, especially when staying at towns. During the periods you stay in hostel or hotel, drinks are not included . During the periods you stay in camps, the four foods are full served, achieving a menu that not only contemplates your taste but also your energy necessities, and always based on fresh foods. Vegetarian menus are available upon advanced request.

Breakfasts: Thermos with hot water are provided with options like tea, coffee and milk; accompanied by cookies, jams, fruits and cereals.

Lunches: They consist on a main course and dessert or a box lunch that is enjoyed in a panoramic point; always accompanied with juices. The box lunch contains an important salad or a good sandwich, accompanied by a fruit and a candy snack ("alfajor") or chocolate.

Snacks:The mentioned infusions to select, with cakes or some sweet cookies or exceptionally

fried cakes. They are served when people return from the walks.

Dinners: It includes Entrance (salads or soups), Main course (pasta, rice with vegetables, meat, stews, etc.), Desserts as fruits.

For trips including dinners on Christmas or New Year's Eve please add u$d 70.- per pax per meal.

GUIDES AND COORDINATION
All groups have assistance, and guides where required. All groups have assistance from their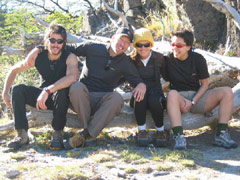 arrival to El Calafate, El Chalten and Torres del Paine in Chile. All the groups will be guided by a professional Mountain Guide, who belongs to the Argentine Association of Mountain Guides and authorized by National Parks, in the journeys that requires it. Also, due to the variety of the destinations that embraces the trip, we have coordinators in different points like El Calafate, and our offices at El Chaltén and Usuahia.



LANGUAGES


Our regular departures dates are receiving people from worldwide. Most departures dates are set for people who can communicate in English and/or Spanish. Our Tour Leaders are Spanish/English bilinguals. On some specific departures dates the Tour leader speaks Italian, French or German, plus Spanish. Please ask us about the dates with Guides fluent in these languages.



TRANSPORTATION


The transportation will be done combining private and regular services.

Transfers IN/OUT to Patagonia Airports
You will arrive to the Patagonia airport where the Tour starts on Day 1. Usually travelers arrive in different flights on Day 1. Our Tours include the transfers IN for the passengers arriving to these Airports at the City or Town of Patagonia where the group will meet on Day 1. For those Tours ending in a City which have a local airport, the transfer OUT to the airport is included.

SECURITY
The trip doesn't include medical assistance. The guides will carry a basic first-aid kit along the walks and VHF communication equipment for any emergency that could take place.



SUGGESTIONS OF EQUIPMENT AND CLOTHES TO TAKE


The Southern Patagonia in spring-summer presents a great thermal width.

Some days we will be able to take sun baths and other days the cold wind will force us to shelter us with polar coats and jacket. So layering is the key to choose your clothes. Without the need of taking with you the whole closet, keep in mind some suggestions:

• Backpack (between 50 and 70 liters of capacity),
• Small Backpack (10-25 liters) optional for the hikes to carry camera/coats/water bottle/personal objects,
• 2 pairs of "used-not new" footwear: one of comfortable trekking boots (better if they are waterproof) and the other tennis/running shoes for using at towns,
• several stockings, 3 pairs minimum: 1 wool or polipropilene thick + 1 polipropilene thin + 1 cotton, better two or three of each,
• 2 long pants, loose fitting, jogging type, it is usually more comfortable to walk than jeans that also do not dry easily, 1 light pant waterproof,
• 2 short pants,
• 2 long-sleeved shirts and 3 or 4 short-sleeved shirts, better if at least one long-sleeved shirt is thermal underwear.
• 2 coats of polar fiber or pullovers (two layers of coats is better than one heavy coat),
• wind and rainproof jacket,
• coat cap & sun cap,
• gloves, with coat & waterproof,
• UV sunglasses,
• solar protector factor 30, lips balm,
• hygiene elements (biodegradable soap, toilet paper), towel, personal medication,
• garbagge bags (we will Leave No Trace) and zip lock bags for wet clothes,
• torch/headlamp and batteries,
• photo camera, memory/film and batteries,
• documents (passport).



MORE EXPLANATIONS


• PATAGONIA ADVENTURE TRIP will be in charge of the transfer of the whole camp material.
• PATAGONIA ADVENTURE TRIP retains the right to change the itinerary or to suspend some of the activities when some climatic cause or other cause of any other nature justifies it in favor of the security of each member of the group.
• To participate in the Adventure Trips you don't need previous experience in camp.
• We welcome family groups but advise them not to participate with children younger than 9 (nine) years old.